MUSIC DIRECTOR
Stanley E. van Wel MM is an all-round musician with a taste for American music and theatre. As a French horn player, composer, arranger, conductor and teacher, he brings many years of experience from the stage, the recording studio and the classroom.
After three years of private studies with Jan Breukel (French horn – classical music), Stanley studied one year at the Brabant Conservatory of Music in Tilburg followed by seven years at the Sweelinck Conservatory of Music in Amsterdam with Vicente Zarzo (French horn – classical music), Pierre Kuijpers (conducting), Jan Schaap (conducting), Charles Green (jazz music) and Steve Galloway (composing & arranging). After graduation, he a.o. taught at his alma mater.
Throughout his career, Stanley performed in professional symphony orchestras, wind bands, big bands and ensembles throughout Europe, both on stage, for radio & television and in the recording studios. His credits include several first performances as a soloist, albums, etc. Stanley's own compositions and arrangements are performed live and recorded on albums and for radio & television. Watching him conduct is a theatrical experience in itself.
As a young man, Stanley was already taken by the sound of American music. He studied and performed American 20th century Modern classical music, jazz music and musical theatre. Stanley founded and conducted several orchestras and ensembles, including the Stanley van Wel Orchestra and the Benny Goodman Revival Orchestra®. He was the MD (Music Director) for both. The Sousa Tribute Band is Stanley's next logical step in performing American music.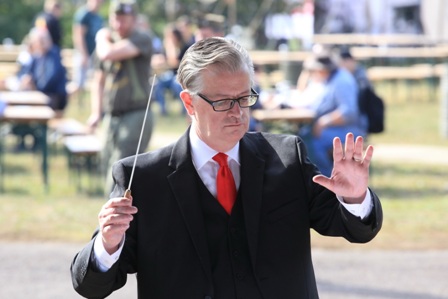 WHERE DID IT ALL START?
Music came into Stanley's life the day he was born. Both his parents loved music so much, they broke the rule of naming their first born son after his father. Instead, he was named after Stan Kenton, the famous jazz big band leader from the USA.
At the age of 4, Stanley and his friends visited the Military Tattoo in Delft for the third time. This was held only two streets from where they lived. While hearing all these great bands play and watch them march at the same time, he realized this would be his future. During the weeks after, Stanley and his friends paraded daily in the streets making music on pots and pans. His first musical instruments became the ukelele and harmonica.
At the age of 5, Stanley was sent to the local music school which he didn't like at all. He wanted to play in the municipal amateur Wind Band and asked his parents for it every day. This was derailed when his family moved from Delft to Rosmalen. The municipal amateur Wind Band over there only allowed for new members at the age of 12 years and up.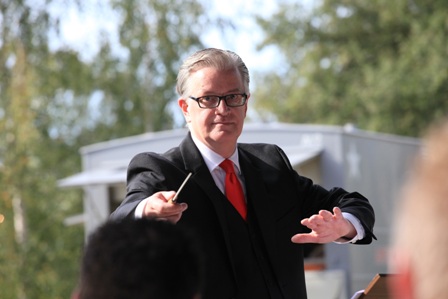 PLAYING THE HORN
On his 12th birthday exactly, Stanley became a member of the municipal amateur Wind Band St. Cecilia in Rosmalen. Although he wanted to play trumpet, he started on a (right handed) mellophone in Eb. At 13, Stanley played in the Youth Wind Band and was a member of it's Board. His parents bought him a trumpet at 14, but at 15 he switched to a (left handed) single Bb French Horn. Than he started playing in the Concert Band conducted by Jan van de Wiel as well. At 16, several things happened which became the catalyst for Stanley's musical development.
The Concert Band entered the obligatory National Wind Band Competition held every four years. Two weeks prior to the date, the weekly rehearsals became daily events. All members were nervous, but Stanley thrived in this competition mode. The Concert Band was promoted to the highest level with honors. That same year, they recorded a single album with two marches. It took a full week and became a very interesting experience.
Although Stanley played 1st horn in the Concert Band, he was asked to play 4th horn with the Orthense Harmonie conducted by Jan van de Wiel for the worldpremiere of the composition 'Brabant and Maramures' by Géza Frid. A challenge he liked a lot.
At 17, Stanley entered preliminary training at the Municipal Music School in 's-Hertogenbosch where he studied music theory, eartraining and piano. He also learned to play on the double F/Bb French Horn.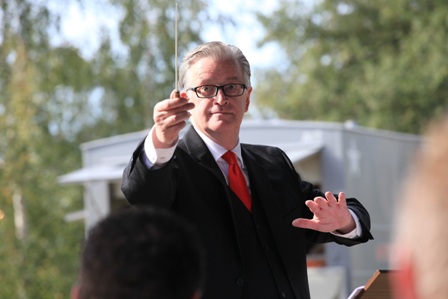 PROFESSIONAL STUDIES AND WORK
At 18, Stanley's rapid development in music went into overdrive when he entered the Brabant Conservatory of Music in Tilburg. Here he was invited to join the Regional Concert Band of Oost-Brabant conducted by Anne de Vries. Starting at 4th horn, going to 3rd, then 2nd and ending as 1st horn. At 20, he even became the band's primary soloist in the 'Konzertstück für Waldhorn und Blasorchester' by Fried Walter which he played 12 times in two years. He stayed in the Concert Band for six years, after which it became the Dutch National Youth Wind Orchestra (NJHO).
At 19, Stanley held this position when he entered the Sweelinck Conservatory of Music in Amsterdam which did not have a Concert Band. Ending year one, being the youngest student for French Horn, he was asked to become the substitute 4th horn in the Amsterdam Police Band (APK) conducted by Gerrit Fokkema. Stanley became their first substitute and the only one allowed to wear the police uniform, just like the regular musicians did. At 19, he played in a professional Concert Band. A position he held until at 27, when this unique band was dismantled due to budgetary cutbacks. Until that time, the only professional civil Wind Band in The Netherlands.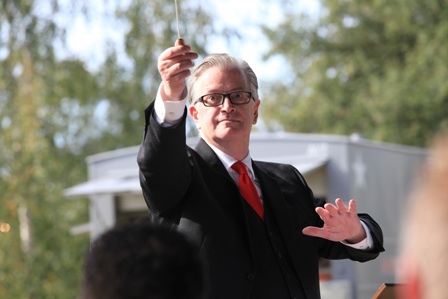 WHERE DOES IT ALL GO?
During the past 30+ years, Stanley gained new insights due to his many and diverse experiences within Music, Musical Theatre and the Performing Arts in general. Now he has set his eyes on developing The Sousa Tribute Band, with all it's possibilities and challenges involved. As the MD (Music Director), Stanley decides on the musical and artistic direction.
Stanley: "John Philip Sousa's music is very energetic and frivolous at the same time. Strong and sturdy with a smile! It has sustained over more than a century without losing any of it's potency. At the same time, a lot of Sousa's music is still to be explored. We aim to perform this great music within Sousa's own spirit: to inspire the one and for many to enjoy".
For the man himself, getting back to his band days appears like going full circle. However, with his inventors mindset it can easily become a renewal of the genre. Stanley: "the future will surprise us all!"